Choose safety with Browsec
Firefox VPN
Get the Browsec VPN extension for Mozilla Firefox and protect your digital freedom
Worldwide connection: 43 countries available
Free access to any content
Anonymous browsing
1-Click install
7-Day money back guarantee

Only firefox VPN that actually works and doesn't waste your time asking you to make an account before you can use it.
How to install a VPN for Firefox
Installing a VPN addon takes just 4 steps:
Open Firefox Addons Manager
Add the extension
Click Add to Firefox to download the app
Enable the addon
Click Add to make it available in your browser
Switch Browsec on
Click the Browsec icon in the panel, then click Protect me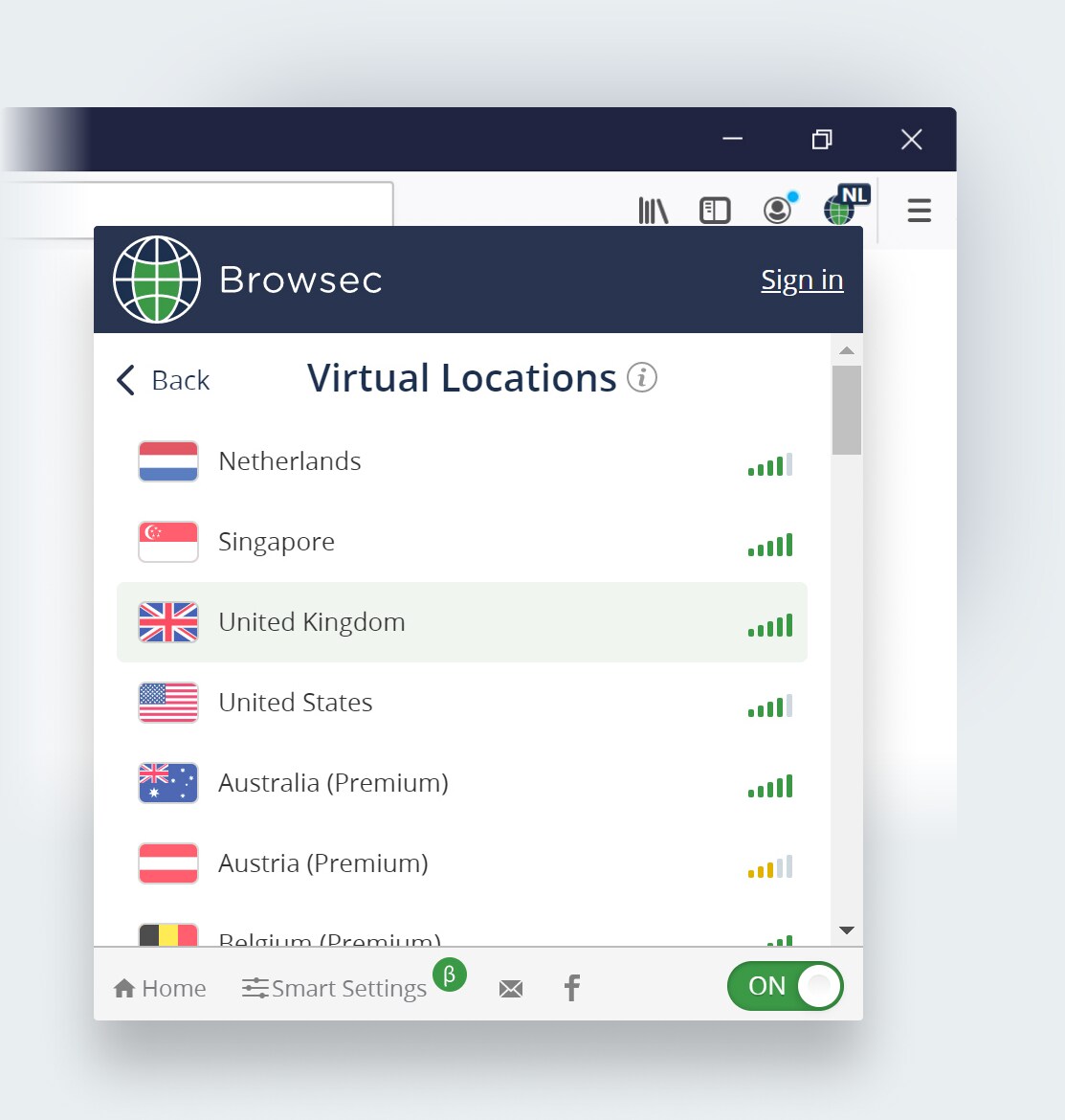 Control your privacy with Firefox VPN
Protect your browser actions
Enjoy digital freedom as you hide personal data and guard online transactions.
Stay anonymous
Get access to any content and unblock any website without anyone knowing your real IP address.
Take charge of your browser
Adjust the VPN for Firefox to fit your needs: disable it on specific pages, choose different proxy servers for different sites, change browser timezone according to a virtual location.
Keep Firefox secure with Mozilla VPN
Encrypt your online data
Connecting to public Wi-Fi isn't an issue anymore. Browsec encrypts your data so that no one can try and steal your personal information.
Disable WebRTC leaks
Your IP address stays uncompromised, as Browsec prevents you from WebRTC leaks during audio and video calls from the browser.
Take advantage of the best servers
Fast web surfing is ensured by our best equipment, so you don't waste time waiting for pages to open.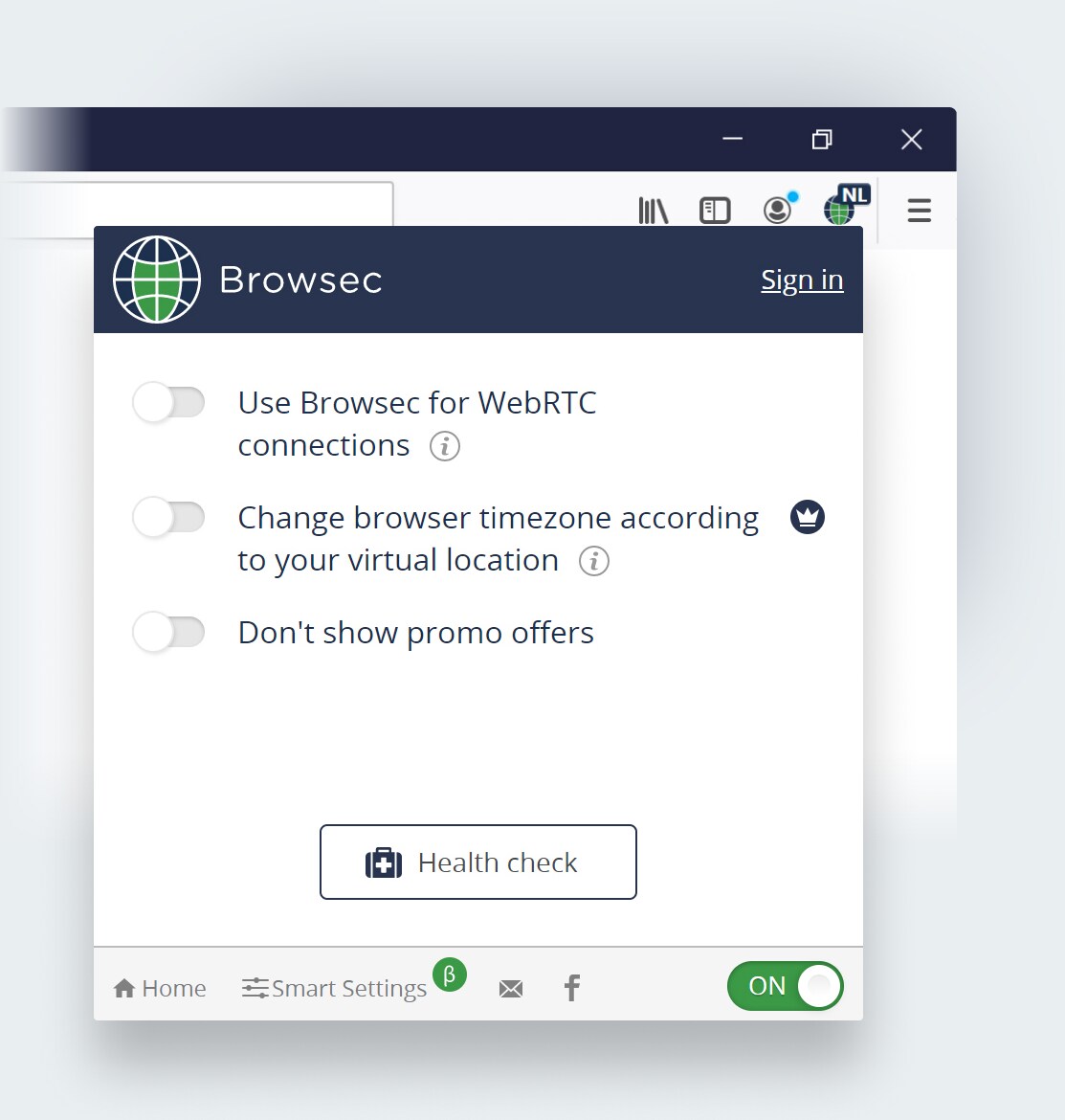 Why choose Browsec as your Mozilla VPN
It is global
You can get Internet access anytime, anywhere. There are 43 virtual locations at your disposal.
It is safe
You can be sure your personal data is safely encrypted and hidden from untrustworthy website owners.
It is easy to use
You can switch the IP changer on or off with just one click.
It is fast
You can get the bandwidth of up to 100Mbit/s with Browsec Premium.
What people say about Browsec
Rated
4.1
out of 5 based on
1 698 reviews
on Firefox Add-Ons Store

Only firefox VPN that actually works and doesn't waste your time asking you to make an account before you can use it.

Excellent,free and without registration. It never disconnects and secure and easy to use.

this is what i need. no registration, just click a button and go

i love that extension... thanks dev.

Good, Fast and Safe better
Frequently Asked Questions
How to set up Browsec VPN on Mozilla Firefox?
Setting up Browsec is easy. Find the extension in the Firefox Add-ons Manager and click Add to Firefox. Next, confirm your actions by clicking Add in the pop-up menu. The app will be installed automatically. Then choose the Browsec icon on the panel and click Protect me to activate it.
I turned Browsec on and chose the right country, but the site I need still won't open. What should I do?
This may happen if you've visited this site before without Browsec. The site could have cached your geo-location or saved it to the cookies file. Try opening the site in the incognito mode. If it doesn't help,
clear cookies and site data
for the website in the Mozilla Firefox settings. Open the site once again and press Ctrl+F5 to clear the cache. This should make the site work properly.
I have Browsec Premium, but the website says: 'You don't have any auto-renewal subscriptions.' What should I do?
Make sure that you are logged in to the Browsec account where you have a subscription. Also, if you purchased a subscription through the Browsec mobile application, it will not appear on the website. You can search for this subscription in your Google Play or iTunes account settings.
Install FREE Browsec VPN for Firefox