Your safety starts with Browsec VPN for
Chrome
Get the FREE Browsec VPN extension for Chrome and enjoy fast and secure web browsing
7 days money back guarantee
Connection via 43 countries worldwide
Free access to your favorite websites
Browser traffic encryption
WebRTC leak protection

I've tried other VPN extentions and trust me they all either disconnect randomly or take too long to respond in opening web pages making it really annoying to surf the net. However, I found Browsec like maybe more than an year ago and since then i've been using it without any limitations or issues. Probably the best VPN extention for Chrome.
How do I install a Chrome VPN?
Follow these steps to easily download a VPN for Chrome:
Open the Chrome Store
Go to the Browsec VPN page in Chrome Web Store
Add the extension
Click Add to Chrome to install the plugin in Google Chrome
Install the addon
Click Add extension to enable it in your browser
Activate Browsec
Click the Browsec icon in the toolbar, then click Protect me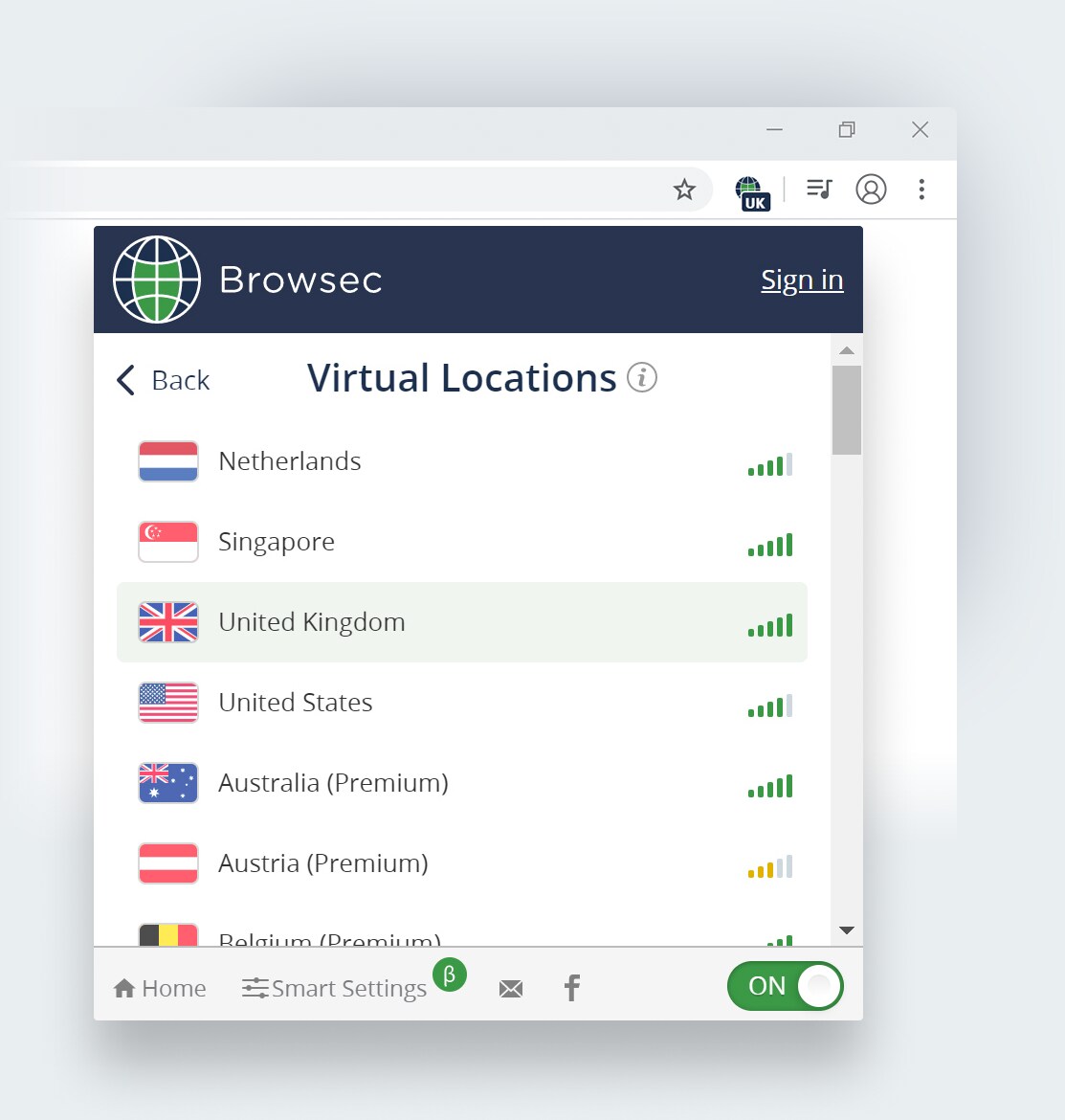 Privacy made easy
Maximum protection
Hide your browser actions from everyone: shield banking operations, passwords, and logins.
Total anonymity
Mask your IP to boost your online privacy. Unblock whatever content you want: access video streaming channels, games, music, and more.
Under your control
Use the smart settings to adjust the Chrome VPN: change the country from site to site, switch browser timezones, and exclude pages from the protection list.
Security guarantee
Steadfast encryption
Thanks to Browsec, you can feel safe while connecting to public Wi-Fi spots. No hacker will be able to steal your personal data, financial information, and passwords.
WebRTC leak protection
Browsec disables WebRTC protocol to prevent your IP address from being compromised.
The best servers
With Browsec, you don't have to wait long for the sites to respond. You can enjoy fast and smooth web surfing all the time.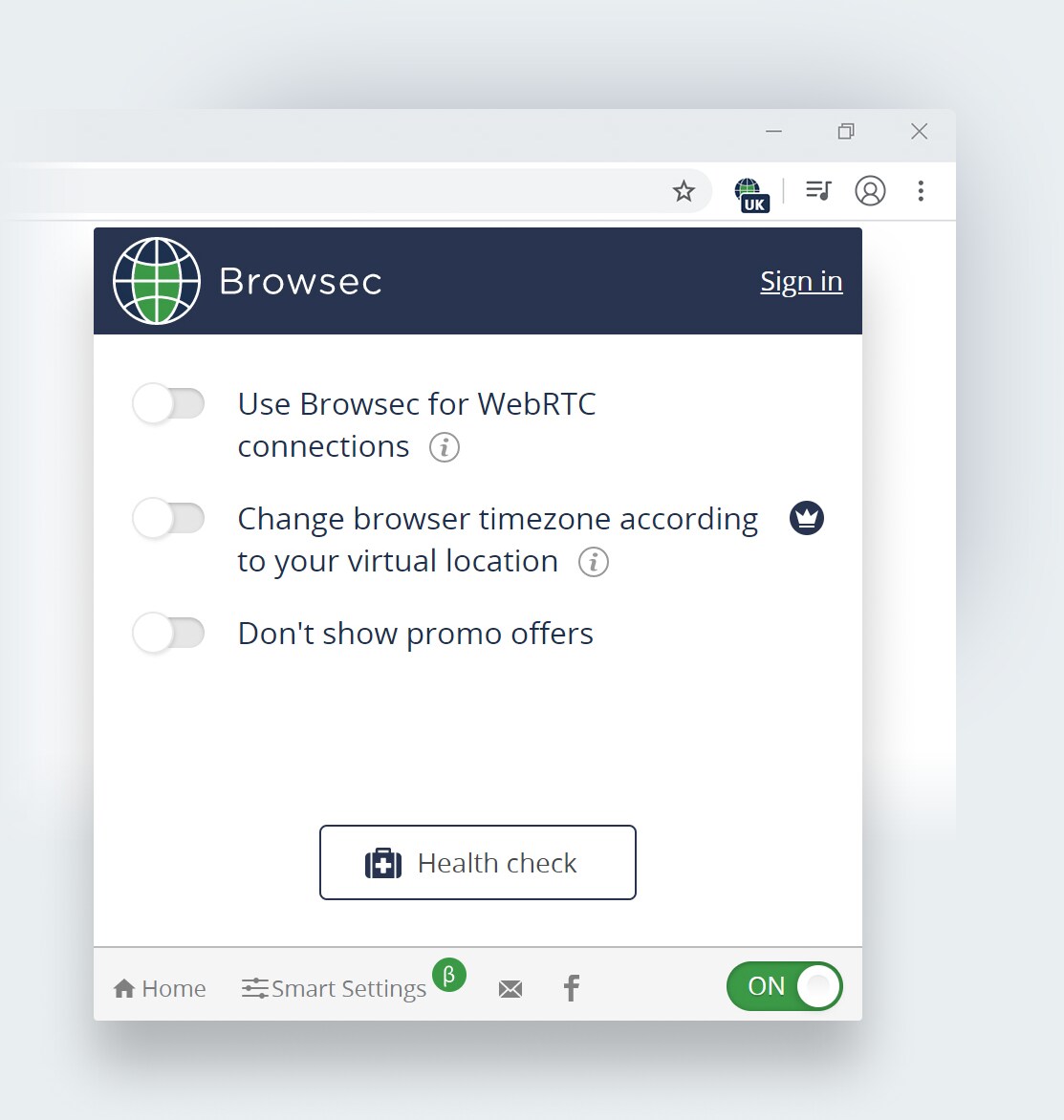 What you get with the Browsec VPN extension
Worldwide connection
Choose any of 43 proxy servers around the world to access the Internet regardless of your geographical position.
High-quality encryption
The addon encrypts your personal information and hides it from malicious ISPs.
One-click privacy
Turn the IP changer on and off whenever you want – just in one click.
Unlimited bandwidth
Get Browsec Premium and make the most of the unlimited speed.
Browsec VPN Chrome Extension in people's eyes
Rated
4.5
out of 5 based on
24 942 reviews
on Chrome Web Store

I never write a review for an extension but this. Totally UNLIMITED FREE with acceptable speed. I can even watch movies without thinking about bandwidth. And something make this ext become perfect is intergrated anti RTC Leak. You DO NOT have to install another ext to enable anti RTC Leak. Thanks for a perfect ext.

Probably safest and best free VPN at least for now; All other extensions takes your bandwith or has history of selling information (your IP adress, cache data, etc)

By far, the best Chrome-based VPN I've used.

Perfect . i love this app . looooooooooooooooooooooooovvvvvvvvvvvvvvvvvvvveeeeeeeeeeeeeeee

I've tried a million vpn extensions. this is the only one that's worked so far. great job!
Frequently Asked Questions
How to set up a VPN in Google Chrome?
Setting up Browsec is easy. Find the extension in Chrome Web Store and click Add to Chrome. It will add the plugin to your browser automatically.
How to enable a VPN in Chrome?
Use the on-off switch to enable Browsec VPN in Chrome. If you want a specific virtual location, click Change next to the country flag and choose any of 43 locations.
Can Browsec work in the incognito mode?
Yes, it can. Right-click on the Browsec icon and select Manage extensions. Scroll down to the Allow in incognito switch and turn it on. This will enable Browsec in incognito tabs.
How many devices can I use Browsec on? Do I need to purchase separate Premium subscriptions for mobile and desktop?
One Browsec Premium subscription covers 5 user sessions at a time, either browsers or mobile devices. Just sign in with the same email and password. Each browser profile is considered a separate user session.
Install FREE Browsec VPN for Chrome